Excellence in Anchoring Systems since 1936
Schaefer Marine acquired Ideal Windlass in late 2016 and our team has been expanding our knowledge on the product line to best service the incredible customers of Ideal Windlasses. Our team will be progressively adding more resources to our website to serve windlass owners and prospective buyers.
Since 1936 IDEAL Windlass has built the most dependable, rugged equipment available. Do you require a windlass for the most demanding conditions that will be trouble free for many years? IDEAL has the model for you!
For immediate assistance, please contact our  team at 508-995-9511 or email Ideal@SchaeferMarine.com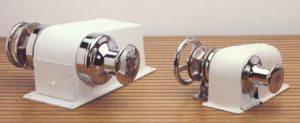 The team here at Schaefer can assist in the ordering of our Ideal Windlass' as well as the repair and refurbish projects for existing windlass.
Ideal Windlass is offered in two layouts and many sizes:
Horizontal Windlass
Constructed with stainless steel.
Offered with  powder coated or highly polished finish.
Rugged and attractive.
Life expectancy  can be greater then 15, 20 or even 25 yrs.
Vertical Windlass
Gearing is both powerful and oversized.
Solid bronze castings used for all gypsies, wildcats, capstans, release wheels, friction plates and brake parts